Our mission is to bring together immunization professionals at every level, in every country, and from every sector; helping them to build relationships, coordinate activities, share knowledge and align priorities and goals.
Our vision is to convene the most trusted and active community of immunization professionals worldwide. Together, our globally-connected community of immunization professionals sustains and improves the performance of immunization services so that everyone, everywhere, at every age, fully benefits from vaccines for good health and well-being.
Our goal is to improve immunization services by bringing together immunization professionals at every level, in every country, and from every sector. To achieve our vision, we focus on providing value in three core areas, or pillars.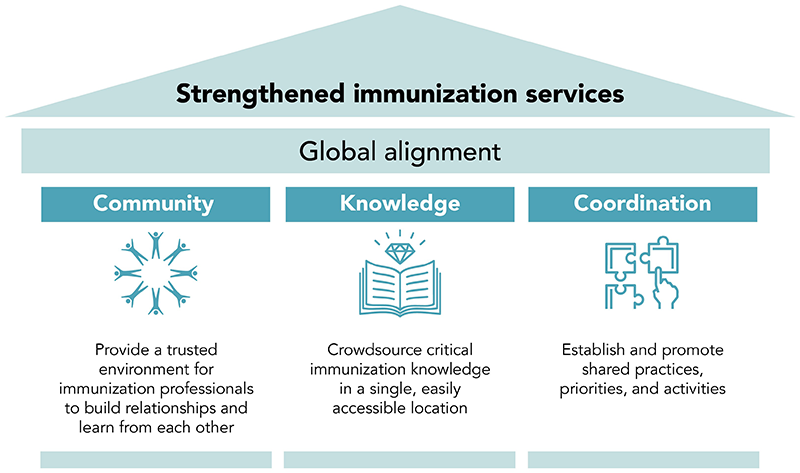 Community
Many individuals and organizations in the immunization space work in silos. This leads to duplicated work, lost knowledge and know-how and missed opportunities to positively impact immunization outcomes across the globe. Overseen and managed by WHO, TechNet provides a trusted platform that addresses these issues. It enables immunization professionals from all levels and everywhere in the world to build trusted relationship, learn from each other, and align their work.
Knowledge
Knowledge and know-how are key to ensure that immunization professionals can deliver vaccines at the right place, at the right time and in the right conditions. Knowledge should be relevant, reliable, free, easy to access and available to everyone. For that reason, TechNet-21 provides a comprehensive immunization repository and acts as a unique knowledge hub and neutral space where immunization professionals can share and discuss immunization resources with the global immunization community, from global to subnational levels.
Coordination
TechNet provides the global immunization community with a neutral space where the perspectives, priorities and goals of every TechNet member and partner organisation are represented, challenged, refined, and adopted or rejected. In this way, members learn from each other, align their thinking and coordinate their activities. Indeed, for global partners in this eco-system, TechNet is uniquely positioned to support and promote their work.